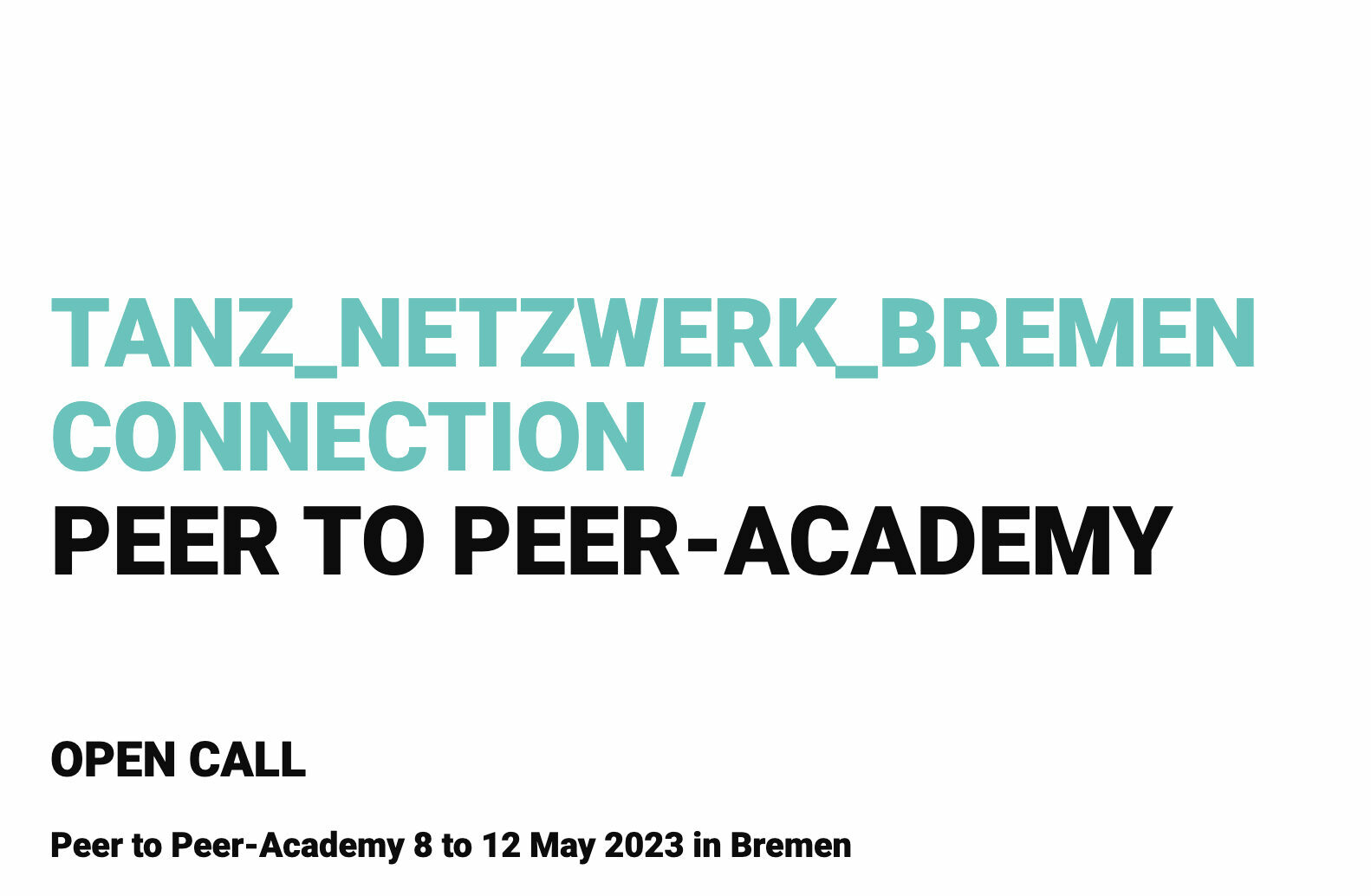 Apply until February 19, 2023: for the Peer to Peer-Academy • May 8 – 12, 2023 in Bremen
Peer to Peer-Academy in Bremen
The exchange involves each participant organizing the procedure of one day and benefiting from the expertise of the other participants on the other four days. In each group, multi-perspective working approaches from the field of dance will be brought together. Participation is possible in full time or in part time.
Dates for the symposium: May 12 from 4 to 7 p.m. and May 13 from 10 a.m. to 5 p.m.
There will be contributions from Susanna Curtis and Godlive Lawani, among others.
Registration for the symposium will be available soon. Please use the following link:
Procedure Peer to Peer-Academy
Each group consists of 5 participants.
We will provide you with a workroom with a dance floor and sound system, lunch and basic working materials as agreed upon.
You will work together in your group for five days. At the end of the week you will document the one day you have created independently. We will compile this documentation and publish it online.
If you come from outside Bremen, we will pay for accommodation and travel expenses.
For a full time work you will receive a fee of 825,00 Euro (gross) by invoice, for part time a fee of 412,50 Euro (gross).
Participation in the symposium following the Peer to Peer week is highly welcomed
Participation requirements
You work professionally in the field of dance with a base in Germany.
You can be present during the five days, ideally six days including participation at the symposium.
Due to several inquiries about the possibility of reconciling participation in the Peer to Peer Academy with family commitments, the announcement was modified to allow one of the three groups to take place on a part-time basis (e.g., 9 a.m. – 1 p.m. or as agreed upon among participants).
You are open to engage in a variety of topics and working methods.
You want to share your skills and knowledge with others in a structured way.
You will create a documentation that is well prepared and understandable for other participants. You decide on the form of the documentation yourself (text, photos, videos…).
Application
If you fulfil these requirements and are interested in an intensive and productive exchange, you can apply until February 19, 2023 at 23:59 via the following application form by using this link:
https://lafdk-bremen.de/en/projects/tanznetzwerkbremen-connection/peer-to-peer-academy
We will be happy to answer any queries at:  or by phone on 0421 69680431.
A jury, staffed by one member of each of the three participating networks, will decide on the composition of the three groups. You will be notified by March 3, 2023 at the latest whether you are participating.
---
Supported by Fonds Darstellende Künste with funds from the Federal Government Commissioner for Culture and Media within the program NEUSTART KULTUR and by the Senator for Culture of the Free Hanseatic City of Bremen.
---
Header-Graphic: lafdk-bremen.de
---