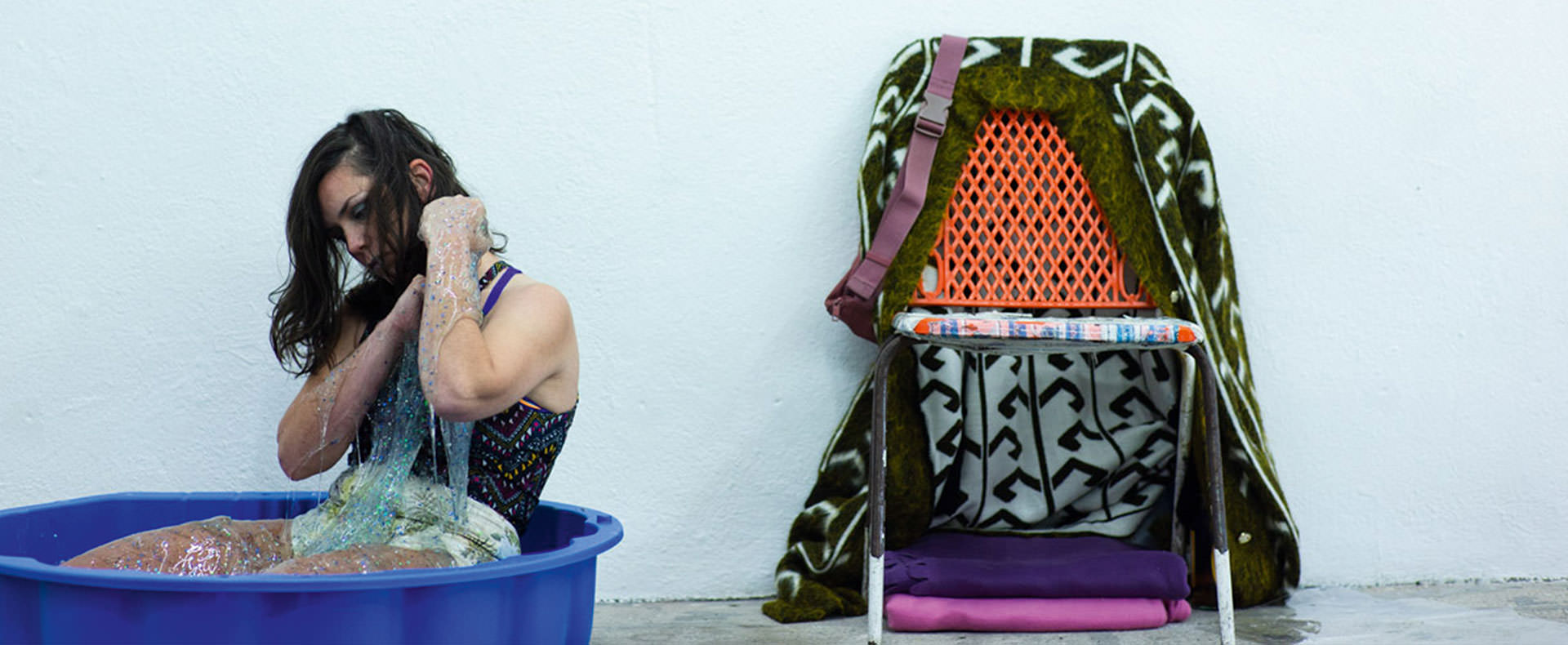 – das Diskurs- und Aufführungsformat des TanzNetzDresden / the discourse and performance

format of TanzNetzDresden –
+++ please scroll down for english version +++
Mit POP UP realisieren Akteurinnen und Akteure 
des TanzNetzDresden drei verschiedene experimentelle Diskurs- und Aufführungsformate.
In Kooperation mit verschiedenen Spielorten und Kunsträumen bringt »POP UP Performance« den Tanz in die Stadt.
»POP UP Salon« und »POP UP Studio« öffnen hingegen die Laborräume für den internen Austausch.
Der Eintritt zu unseren POP UP-Formaten ist frei.
POP UP ist ein Projekt von TanzNetzDresden. Gefördert vom Amt für Kultur und Denkmalschutz und der Kulturstiftung des Freistaates Sachsen. Die Maßnahme wird mitfinanziert durch Steuermittel auf Grundlage des vom Sächsischen Landtag beschlossenen Haushalts.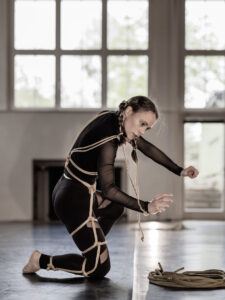 Ein Raum gespickt mit lauter kleinen Mimosen. Traust Du Dich, sie zu berühren? Ihre Blätter ziehen sich zusammen und verschließen sich vor Dir. Schäm Dich! Was bleibt ist Sprachlosigkeit und der Drang sich zu inszenieren, um sich nicht zu offenbaren. Doch ein paar dieser zarten Pflänzchen versuchen sich Deinem Blick nicht zu entziehen. Was ist möglich, wenn das, was beschämt, in den Mittelpunkt der Inszenierung gerückt wird? Kann wieder ein Gefühl der Verbundenheit entstehen?
Chiara Detscher und Alina Lucifero erkunden gemeinsam mit sechs weiteren Akteur:innen der Dresdner Tanz- und Musikszene individuelle Auslöser von Schamgefühlen und deren Auswirkungen auf zwischenmenschliche Interaktionen.
In kurzen Solobeiträgen von Jule Oeft-Rottluff, Amit Abend und Odbayar Batsuuri, sowie gemeinsamen Improvisationen, musikalisch begleitet von Jannicke Hagen und Albrecht Ernst, wollen wir unterschiedliche Perspektiven und Nuancen des Themas beleuchten. Denn Scham ist immer abhängig von Herkunft, sozialer Prägung und gesellschaftlichen Kontexten.
Das Team
Performance – Die Mimosen: Jule Oeft-Rottluff, Amit Abend, Odbayar Batsuuri, Seraphine Detscher, Chiara Detscher, Alina Lucifero
Musik: Albrecht Ernst, Jannicke Hagen
Kooperationspartner: Der Halle
Erschließung neuer Räume und Gestaltungsmöglichkeiten für kulturelle Kooperationsprojekte:
Das ist die Arbeit des Dresdner Kultur- und Clubkollektivs Der Halle, bestehend aus Kulturschaffenden unterschiedlicher Wirkungsbereiche, welche das Ziel verfolgen, einen unabhängigen und leicht zugänglichen Ort für diverse Kulturveranstaltungen im Industriegelände zu etablieren. Die Pandemie bremste dieses Vorhaben massiv aus.
Gemeinsam und im Rahmen des Neustadt Art Festivals wollen wir mit dieser POP UP-Performance die weitere Entwicklung des Kollektivs Der Halle und somit eines neuen Spielortes für Kulturveranstaltungen fördern und für Publikum zugänglich machen.
Der Eintritt zur Veranstaltung ist frei.
After the show:
Im direkten Anschluss an die Pop Up Veranstaltung öffnen wir die Halle für einen gemeinsamen Austausch.
Ab 22 Uhr findet eine Party mit musikalischen Beiträgen vom Techno-Duo fllood, bestehend aus Leon Damm und Ión Lopez Leal, sowie der DJane Alphonsine Koh statt.
Timetable After-Show-Party
22:00 – 00:00 Uhr: fllood
00:00 – 02:00 Uhr: DJane Alphonsine Koh
Eintritt zur Party gegen Spende.
With POP UP, actors of the TanzNetzDresden present three different experimental discourse and performance formats.
In cooperation with various venues and art spaces, »POP UP Performance« brings dance into the city while »POP UP Salon« and »POP UP Studio« open up laboratory spaces for internal exchange.
As always admission to our POP UP events is free.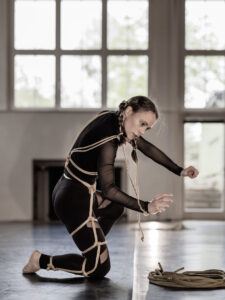 A room full of little mimosas. Do you dare to touch them? Their leaves contract and close themselves off from you. Shame on you! What remains is speechlessness and the urge to stage oneself in order not to reveal oneself. But a few of these tender little plants do not try to escape your gaze. What is possible when that which shames is brought into the center of the staging? Can a feeling of connection arise again?
Chiara Detscher and Alina Lucifero, together with six other actors from Dresden's dance and music scene, explore individual triggers of feelings of shame and their effects on interpersonal interactions.
In short solo contributions by Jule Oeft-Rottluff, Amit Abend and Odbayar Batsuuri, as well as joint improvisations, musically accompanied by Jannicke Hagen and Albrecht Ernst, we want to illuminate different perspectives and nuances of the topic. Because shame is always dependent on origin, social conditioning and social contexts.
The team
Performance – The mimosas: Jule Oeft-Rottluff, Amit Abend, Odbayar Batsuuri, Seraphine Detscher, Chiara Detscher, Alina Lucifero
Music: Albrecht Ernst, Jannicke Hagen
Cooperation partner: Der Halle
Opening up new spaces and design possibilities for cultural cooperation projects:
This is the work of the Dresden culture and club collective Der Halle, consisting of cultural workers from various spheres of activity, who are pursuing the goal of establishing an independent and easily accessible venue for various cultural events in the industrial area. The pandemic put a massive brake on this project.
Together and in the context of the Neustadt Art Festival, we want to use this POP UP performance to promote the further development of the collective Der Halle and thus of a new venue for cultural events and make it accessible to the public.
Admission for the POP UP performance is free.
After the show:
Directly after the Pop Up event we will open the hall for a common exchange.
From 10pm there will be a party with musical contributions from the techno duo fllood, consisting of Leon Damm and Ión Lopez Leal, and DJane Alphonsine Koh.
Timetable After-Show-Party
22:00 – 00:00 Uhr: fllood
00:00 – 02:00 Uhr: DJane Alphonsine Koh
Admission to the party for donation.
POP UP is a project of TanzNetzDresden. Funded by the Office for Culture and Monument Protection and the Cultural Foundation of the Free State of Saxony. The measure is co-financed by tax funds on the basis of the budget passed by the Saxon state parliament.
VIDEOAUSWAHL VERGANGENER POP UP-EDITIONEN /
VIDEO SELECTION OF PAST POP UP EDITIONS