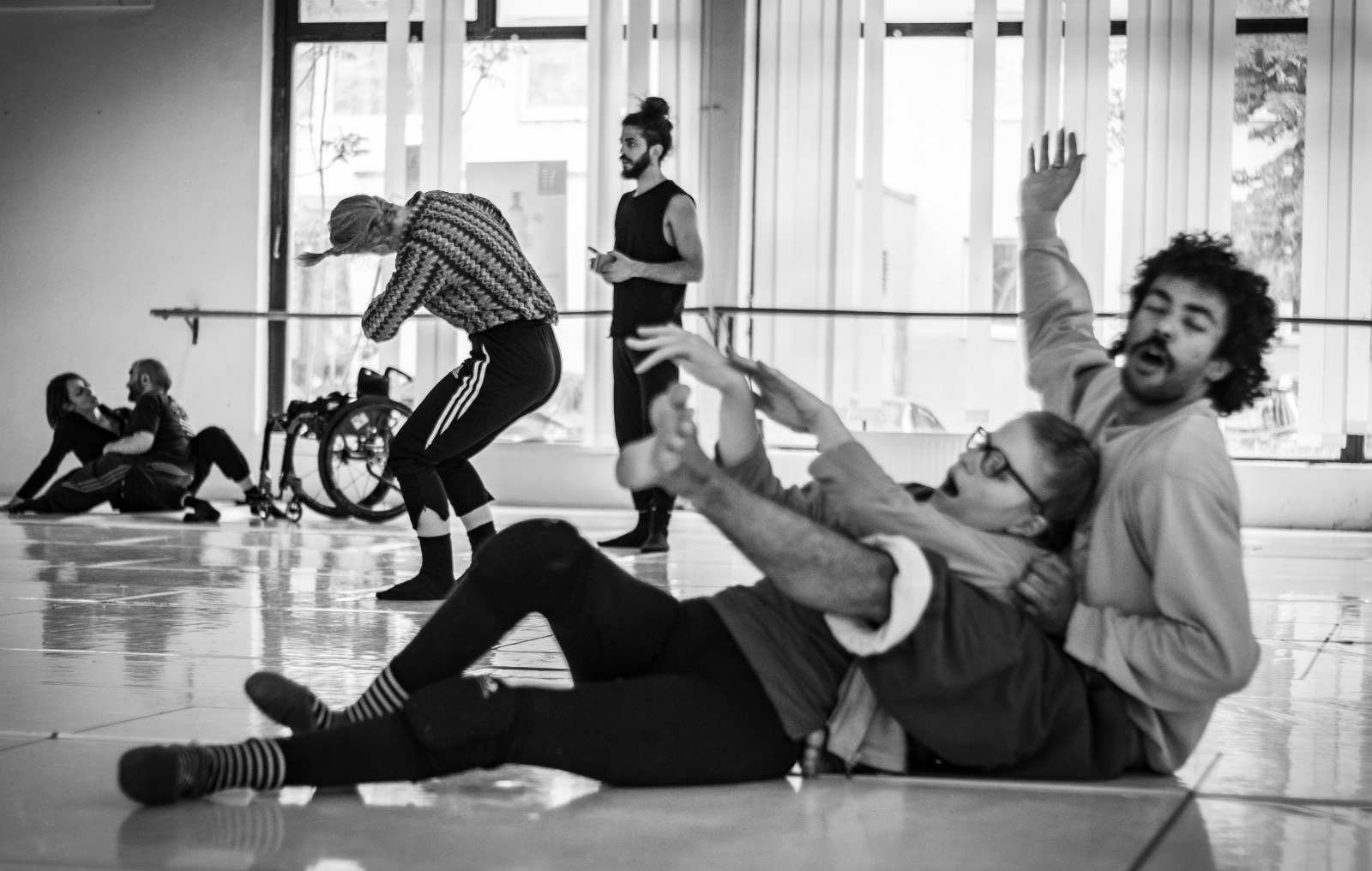 Heute gibt es ein Interview mit Lis Zocher und Renan Manhaes von der FORWARD DANCE COMPANY aus Leipzig. Beide sind im Rahmen von WORKING COMMUNITIES am Samstag, dem 13. November 2021 mit ihrem Workshop »Der Bereich zunehmender Zufälligkeit« zu Gast und geben im Gespräch einige Einblicke in ihre Arbeit.
Today we have an interview with Lisa Zocher and Renan Manhaes from FORWARD DANCE COMPANY from Leipzig. Both are guests at WORKING COMMUNITIES on Saturday, November 13, 2021 with their workshop »Domain of Expansion Randomness« and give some insights into their work in conversation.
---
Interview mit/with Lisa Zocher und/and Renan Manhaes with german translations below every question and answer.
The content of your workshop is surely to be found deep in your personal or professional experience. Do you want to tell a little about certain cornerstones from your biographies that have become "triggers"
Der Inhalt eures Workshops ist sicher tief in eurer persönlichen bzw. beruflichen Erfahrung zu suchen. Wollt ihr ein wenig erzählen, ob es bestimmte Eckpunkte in euren Biografien gab, die "Auslöser" eurer heutigen Arbeitsmethoden sind?
Both: »The workshop is inspired by the studies of human senses in an authentic practice level. Understanding the relations with the inner self, space and the others.«
Beide: »Der Workshop ist inspiriert vom Studium der menschlichen Sinne auf einer authentischen Praxisebene. Verstehen der Beziehungen mit dem inneren Selbst, dem Raum und den anderen.«
What can the participants expect from your workshop?
Was können die Teilnehmer von Ihrem Workshop erwarten?
Lisa Zocher: »Unter anderem Improvisation, Meditation und die Verbindung von Bewegung und Natur.«
Lisa Zocher: »Among other things, improvisation, meditation and the connection between movement and nature.«
What are your hopes for the long-term effect of your workshop?
Was sind eure Hoffnungen hinsichtlich des langfristigen Effekts eures Workshops?
Both: »We hope that the participants will be able to take away the sparkle of their own randomness, pure freedom for their conscious and unconscious decisions. So it flows.«
Beide: »Wir hoffen, dass sich die Teilnehmerinnen und Teilnehmer das Funkeln ihrer eigenen Zufälligkeit nehmen können, pure Freiheit für ihre bewussten und unbewussten Entscheidungen. Es fließt.«
What else can be expected from you and the FORWARD DANCE COMPANY in the future?
Was ist in Zukunft noch alles so von euch und der FORWARD DANCE COMPANY zu erwarten?
Both: »Still good dance, interesting art, dedicated research…«
Beide: »Weiterhin guter Tanz, interessante Kunst, engagierte Recherchen…«

Do you have a few more things you'd like to share?
Habt ihr noch ein paar Dinge, die ihr gern mitteilen möchtet?
Both: »It's a pleasure to make this experience shared with TanzNetz Dresden, we're looking forward to seeing the fire from the participants and catalyzing it.«
Beide: »Es ist eine Freude, diese Erfahrung mit TanzNetz Dresden zu teilen, wir freuen uns darauf, das Feuer der Teilnehmer zu sehen und es zu katalysieren.«
---
All information about the upcoming workshop "Der Bereich zunehmender Zufälligkeit / Domain of Expansion Randomness" with Lisa Zocher and Renan Manhaes at WORKING COMMUNTIES is available hier.
Thank you very much for the interview!
Alle Informationen zum kommenden Workshop »Der Bereich zunehmender Zufälligkeit / Domain of Expansion Randomness« mit Lisa Zocher und Renan Manhaes bei WORKING COMMUNTIES gibt es hier.
Herzlichen Dank für das Interview!
---
The workshop with Lisa Zocher and Renan Manhaes will take place on Saturday, Nov. 13, 2021 from 10:30 am to 1:30 pm at riesa efau (Wachsbleich street 4A, 01067 Dresden).
Important: Participation in the workshop is free of charge, but the number of participants is limited. The registration period is officially closed, but people are welcome to write mails to to ask for remaining contingents.
Der Workshop mit Lisa Zocher und Renan Manhaes findet am Samstag, dem 13.11.2021 von 10:30 bis 13:30 im riesa efau (Wachsbleichstraße 4A, 01067 Dresden) statt.
Wichtig: Die Teilnahme am Workshop ist kostenlos, aber die Teilnehmerzahl ist begrenzt. Die Anmeldephase ist offiziell beendet, aber es können gerne Mails an geschrieben werden, um Restkontingente zu erfragen.
---
The activities of TanzNetzDresden are made possible by institutional funding from the state capital Dresden, concept funding from the Cultural Foundation of the Free State of Saxony and #TakeNote from the Performing Arts Fund as part of the Neustart Kultur program of the Federal Ministry of Culture and Media, and the Bürgerstiftung Dresden.
---
Die Aktivitäten von TanzNetzDresden werden ermöglicht durch die institutionelle Förderung der Landeshauptstadt Dresden, die Konzeptförderung der Kulturstiftung des Freistaates Sachsen und #TakeNote des Fonds Darstellende Künste im Rahmen des Programms Neustart Kultur des Bundesministeriums für Kultur und Medien sowie der Bürgerstiftung Dresden.