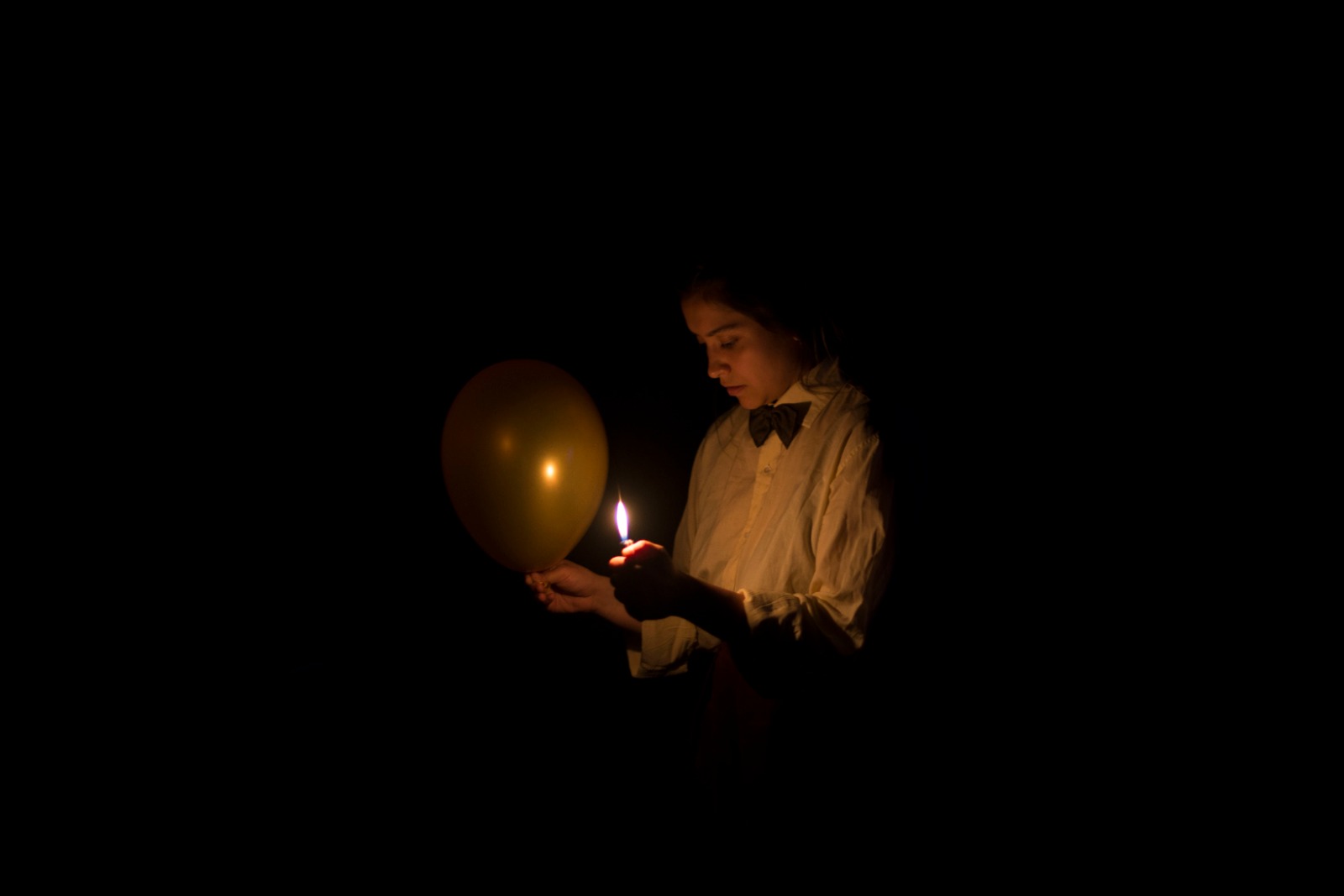 Now it's official – Line up of the fourth TNDD studio round (July 8, 2022)
The complete line up of the upcoming TNDD studio round edition, which will take place on July 8th as usual from 8pm at the TENZA Schmiede, is now online and can be browsed. Once again, you can expect four exciting contributions from very different artists, which will be presented and discussed with the guests of the evening in our special studio atmosphere. As always, the format is free of charge. The participants of the upcoming fourth edition are:
Charles A. Washington (Dresden)
Antonia Peris (Bologna)
Paula Caldirola (Berlin)
Therese Bendjus & Daria Belous (Berlin) (unfortunately cancelled due to illness and will be made up at the TNDD studio round#5 next fall)
Detailed information on the individual contributions to the fourth TNDD studio round will now follow in German or can be viewed directly on the studio round subpage. There you will also find all information in English.
---
Charles A. Washington: "Acid"
Charles A. Washington is looking at different approaches to movement through environmental factors such as space and those who inhabit that space. His class shifts between improvisation and different structured exercises that explore the three different types of awareness that he is researching at present. His classes offer a way to perceive and sense the body in an open and generous way that manifests in the quality of movement and playful dynamics that lead to a social or/and deep internal experience.
Acid is a scene from a larger solo work. In the section, the voice is used in relationship with the body so that the movement and the voice have a resonance, dynamic and rhythm that correlates. The sounds that are produced have no meaning and the movement is gestural the aim of this combination is to allow the audience to add their own subjective interpretation to the dance.
---
Antonia Peris: "Something missing"
Antonia Peris is a Colombian artist active in the field of performing arts with a background in physical theater and object manipulation. She is interested in signifying the raw stories of everyday life in theatrical and poetic universes through movement, the mobility of the body and its physicality. With experience as a performer in small and large format shows as well as under the role of creator.
Imagine that you wake up and realize that there is an inner emptiness that does not allow you to be or to be. And now, what do I do? Where do I go? "Something missing" is my opportunity and possibility to touch that sensitive point, to vomit fears, to translate the personal emptiness into creative possibilities, to give life to what seemed dead. A nameless body that sinks, holds back, breaks, sways, ruminates, suspends and constantly loses balance. A body prostrated in the corner of a room, oscillating between mind and reality. The insipid present devours his soul, his coming and going becomes a step towards emptiness, or who knows if an opportunity to breathe again.
Instagram: antoniaperis.vpm
---
Paula Caldirola: Manifest
Paula Caldirola's artistic journey has several components that have always put her in a hybrid place. She studied at U.N.A in Argentina and then specialised in urban styles. In recent years her research has focused on improvisation while continuing to combine movement with other types of artistic expressions that she finds urgent to explore.
»I am moved by the urgency of being alive, when I dance all worlds are possible and that is a great challenge and at the same time a huge responsibility for me. I find myself in love with music, rhythm, sound and I think they are my greatest companions when I move. At the same time I believe in collective work, I think that any creative process or work is involved in transformation and that would not be possible if it were not in a collective way.« (source: dance-dis-connect.com)
Manifest work is composed with the construction of sound metaphors that suggest a scenario of struggle in which the main theme of the manifesto develops: the concept of party as resistance.
Putting into a dialogue a background of urban and contemporary dances, while highlighting the South American roots in this work, are the basis on which this piece develops. Party, enjoyment, pleasure and Reggaeton in response to an oppressive system headed by the patriarchy and its colonised bodies.
Instagram: instagram.com/lapau.li
---
Therese Bendjus & Daria Belous: Studies of Softening
(unfortunately cancelled due to illness and will be made up at the TNDD studio round#5 next fall)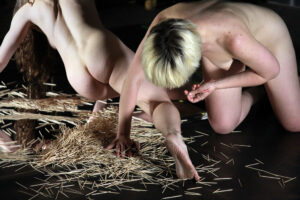 Therese Bendjus, originally from Dresden, is a performance artist working, living and studying in Berlin. Her research circles around states of vulnerability, touch and encounter. She is interested in the body as matter and questions the personal transparency during performances.
Daria Belous is a Belarusian-born improvisation movement artist, engaging in performance art, sound design and somatic form. Coming from communication studies and linguistics, her artistic interest is built around the possibilities of materials communicating with and translating into each other. She currently studies at HZT Berlin and works with states of discomfort and loss of control.
Studies of Softening is a performance around tenderness and warmth. A heater becomes our teacher. Is trembling the same as heating? How do we encounter each other in a tender way? We declare softening as strength and wonder where power and fragility meet.
Fotos: Anton Gerzina & Nihad Nino Pusija
---
We are very much looking forward to the contributions and the subsequent exchange and cordially invite all interested parties to join us on July 8 from 8 pm at TENZA Schmiede.
All information about the respective pieces of the evening, which of course can be discussed afterwards, can also be found here.
---
TNDD studio round is a project by TanzNetzDresden. Funded by the Office for Culture and Monument Protection and the Cultural Foundation of the Free State of Saxony. The measure is co-financed by tax funds on the basis of the budget passed by the Saxon State Parliament.
---
Header photo: Antonia Peris