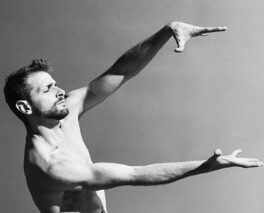 He began his studies in 2005 at the age of 14 at the dance school "la Scuola degli Artisti" in Grosseto directed by Domenico Saracino .In May 2006 he won a grant for an intensive course in Washington held by "The Washington Ballet Company" directed by Rebecca Wright. In 2009 he joined the Junior company of "Balletto di Toscana" where he acted as choreographic assistant of Arianna Benedetti and Eugenio Scigliano and as a teacher. Later he worked as a guest with Claudio Ronda's Fabula Saltica Company, at the Opera Theatre Rovigo and with Igor Kirov at Equilibrio Dinamico dance company directed by Roberta Ferrara.
In 2014/2015 he joined Staatstheater Braunschweig directed by Jan Push where he danced in choreographies by Roy Assaf, Jan Push and in the Young Choreographers' project.
From 2015 till 2018 he was a member of Tanz Compagnie Landesbühnen Sachsen directed by Carlos Matos, performing in choreographies by Carlos Matos, Wencke Kriemer, Igor Kirov, Henrik Kaalund, Michele Merola. For the same theatre he has been creating, for Young Choreographers; a inedited new performance called "Verdammt zu leben" .
Later he took part to the innovative production "Symphonix" directed by Raphael Hillebrand, a piece in collaboration with the "Saxsonz", a famous b-boy crew in Germany. In 2018 he took part as freelancer to the dance project "Trust "created by ConTrustCollective, and again in 2019 with ConTrustCollective Dresden for a new upcoming project called " intermission".
At the beginning of 2019 he was engaged by "Company Idem", directed by Matthias Kass and Clément Bugnon for a dance project " 3Ages " performed in Switzerland and Germany and as been invited to perform in one of the most renowned festivals in the country, ColoursDance Festival in Stuttgart. In the same period 2019 he joined the project from Helena Waldmann called " The Intruder", that will be perform all around Germany with a tour in 2020.